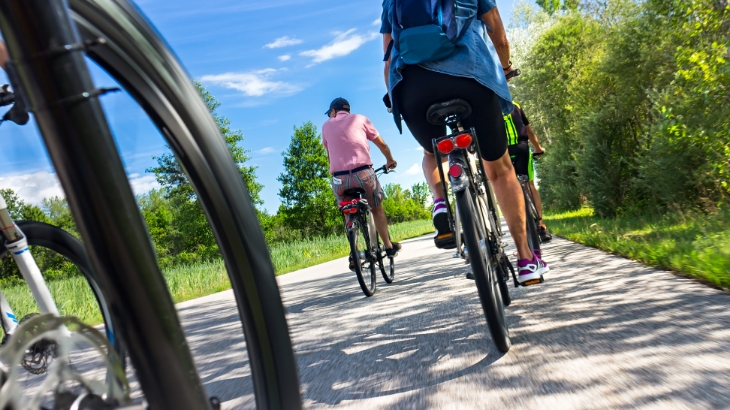 The Location of Number 4 Might Surprise You!
No one can deny that KC is gorgeous in the summer! Gorgeous trees, exciting cityscapes, historical neighborhoods, and endless entertainment await you around every corner. Don't just walk to your summer fun from our luxury apartments in Kansas City, ride your bike!
Not sure where to set your sights for your next ride through our incredible city? Take a look at these popular bike tours that let you soak up summer sun in style. Number 4 will surprise you!
1. Explore Kansas City With a Segway Tour
In just an 11-minute walk from our luxury apartments, you can find yourself at Kansas City Segway Tours. Here, you can rent a Segway, and glide through KC as you take in our city's natural beauty, historical neighborhoods, and dazzling entertainment districts.
Kansas City Segway Tours also has incredible bike tours, which are the perfect way to spend a summer afternoon. They offer tours like BBQ, Brews, & Bikes, and Holiday Lights.
As one of Trip Advisor's top-rated tours in Kansas City, reservations fill up fast. So, make sure you book your tour in advance.
How to Elevate Your Experience at Our Modern Luxury Apartments
What's better than taking a breathtaking Segway or bike tour of Kansas City? Enjoying it with your friends and family!
When your loved ones need a place to stay, don't send them to a hotel that doesn't offer the comforts of home. Instead, have them reserve our guest suite.
Not only will they be right next door, so you can maximize your time together, they'll also be able to indulge in the same luxury amenities you have access to every day. Talk to our staff about reserving a suit for your guest today!
2. Get Ready for a Ride in The Moonlight This July
Even though you can't walk to this starlit event, it's definitely worth the drive! On Saturday, July 16th, Old Town Lenexa is hosting an 11-mile, closed-course bike ride through the Meritex caves.
You can decorate your bike with lights and even take part in a "Light the Night" bicycle-decorating contest at 9:30 p.m. After your twilight bike ride, enjoy a delicious pancake breakfast for a $7 donation.
You still have time to sign up for an early bird special. Save $5 off your registration fee, if you register by July 1st. Each participant receives a complementary "Moonlight Bike Ride T-Shirt," while supplies last.
Our Luxury Apartments in Kansas City Can Help You Go the Extra Mile
Whether you're training for a triathlon, or just want to leisurely enjoy the Moonlight Bike Ride in Lenexa, our apartment homes are the best place to get in shape and prepare for your next adventure.
Each of our residents has access to a state-of-the-art, 24-hour fitness center that features free-weights, four treadmills, fitness equipment, private studio rooms for group fitness classes, and more.
After you're done working up a sweat, cool off in our gorgeous pool with a swim-up pool bar, or ease your sore muscles by taking a dip in our hot tub.
Take your fitness game to a luxury-level by booking a sports massage in our exclusive massage room. Just reach out to a member of our staff, and we'll take care of the rest. Don't forget to ask how you can get your summer bronze started with a private spray tan, too!
3. Push Your Way Into a Party With a Pedal Hopper
Are you looking for a unique way to create unforgettable memories with your friends this summer? Then book a tour with Pedal Hoppers! They've been operating the original party bike in Europe for more than two decades, and have now created routes in Kansas City.
You and your friends can pedal your way through Waldo or the Crossroads while stopping at popular venues like Up Down Arcade Bar and KC Bier Co. Your party bike can carry up to 16 people, which makes this unique experience perfect for any kind of event.
Keep in mind that no adult beverages are allowed on party bikes, you need to be at least 21 years of age to enjoy this tour, and it's recommended to have at least 10 friends with you on your Pedal Hopper to easily pedal through small slopes.
Spend Time With Your Friends At Our New Apartments in Kansas City
When your legs are tired from pedaling the day away, bring the party back to our luxury apartments, where you can spend time with your friends enjoying our top-of-line amenities.
Watch the latest thriller in our media lounge, sip your favorite cocktail by our outdoor firepits, play pool in our resident lounge, or even create an incredible meal for your entire crew in our community and summer kitchens.
The luxury apartment homes at 44 Washington are pet-friendly! Spend quality time with your furry-friend at our private Bark Park and exclusive Paw Spa. Our pet-friendly apartments near you have zero breed or weight restrictions. Schedule a tour of your new home today to find out more about our pet-policies and pet-fees.
4. The Best Bike Tour In Kansas City Is at Our Luxury Apartments!
We have everything you need to customize your own bike tour at 44 Washington, including a gorgeous location with incredible views and convenient stops.
Don't have your own bicycle? That's okay, because our luxury apartments in Kansas City have plenty for you to rent! However, if you have your own set of wheels, we have you covered too! Maintain your bicycle at our bike repair and wash stations. That's right! You can keep your wheels, chain, and more it top-condition from the comfort of your new apartment home.
If you can't fix it at our private bike station, you can take your bike to one of three bicycle repair shops near our modern luxury apartments.
When you bring your bicycle back home, you don't have to tote it up to your apartment. Just safely secure your bike to our bike rack and conveniently take the elevator up to your home.
Request a Tour of Our Luxury Lofts Near You Before They're Gone!
Summer is approaching and the residents of Kansas City have spoken – they want to spend it in style! Our luxury pet-friendly apartments are the only place to truly take summer to the next level.
Not only do we have the amenities you want on the outside, the inside of your apartment is completely stocked with luxury amenities, too! Open the door to features like smart home technology, under-counter beverage coolers, and more!
Ready to see what else is inside your new apartment in Kansas City? Then reserve a tour of 44 Washington by calling our leasing team (813) 412-8490 or contacting us online! Our lofts, apartments, and villas are leasing quickly, so make sure you schedule your tour as soon as possible!