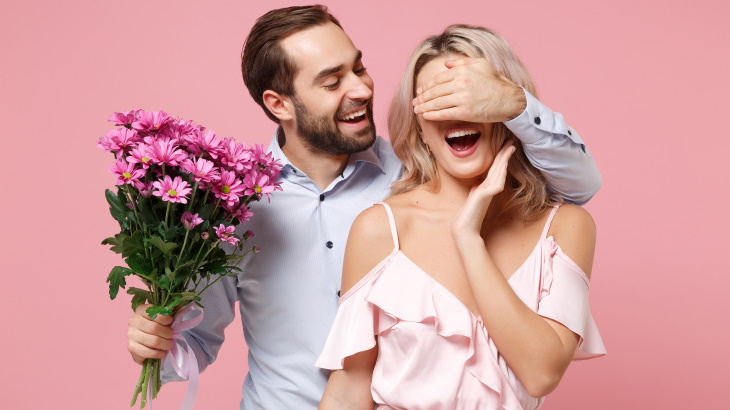 Top Three Tips From the Best Luxury Apartment Homes in Kansas City
Valentine's Day is supposed to be full of love and affection. So, don't spend the day fighting through traffic and waiting for your food in a busy restaurant. 44 Washington has luxury apartments in Kansas City that are perfect for a romantic night in. Here are our top tips on how to enjoy a cozy Valentine's Day in your apartment:
Decorate Our Apartments in Kansas City With Fresh Flowers
When you live in our modern luxury apartments, you're just a 12-minute walk from one of Kansas City's favorite florists – Trapp and Company. You can order seasonal arrangements or pick a selection you know your partner will love. They even make custom arrangements for something extra special! Check out these ways you can decorate our apartment homes with fresh flowers:
Floating Flowers
Cut flower heads and place them in shallow bowls filled with water. Not only does this look spectacular, it also makes your flowers last a little longer.
Split a Large Bouquet
It's difficult to find a large vase for full bouquets of flowers. Get more enjoyment out of your flowers by dividing them up into smaller, elegant vases. You'll get to spread flowers throughout your house and enjoy them more.
Combine Flowers With Candles
When you pick up your flowers from Trapp and Company, make sure you purchase one of their beautifully scented candles, too. Set your candles safely on your table or counter, and weave floral arrangements through them. Just make sure your wicks are away from blooms, leaves, and stems.
Get More by Living at 44 Washington
Does winter weather make you want to stay inside? Don't worry, because Trapp and Company deliver fresh bouquets to your door. Use the time you saved to cook a delicious meal in your gourmet kitchen at 44 Washington. That way, you'll be ready to kick off Valentine's Day as soon as your date arrives.
You can celebrate every holiday in style when you live at 44 Washington, because we have a community kitchen that features a full-size fridge, oven, stove, and dishwasher. After you've had your fill, spend time with your guests in our media lounge, or head outside and gather around our outdoor fire pit.
Valentine's Day Is Sweet In Our Modern Luxury Apartments
Valentine's isn't the same without candy! Pick your sweetheart's favorite indulgences at IT'SUGAR or SugahRush Berries on the Country Club Plaza. These two establishments offer every kind of sweet you can imagine, and they are both within walking distance of our apartments in Kansas City. Check out how you can give the people you love a little sugar this February:
IT'SUGAR
Candy Gift Boxes
Gummy Flower Bouquet
International Snack Boxes
Popping Fruit Jellies
SugahRush Berries
Customized Candied Apples and Strawberries
Dipped Marshmallows
Pretzels
Rice Krispy Treats
Take your sweet treat a step further by asking SugahRush to print edible portraits of your date on each strawberry or candied apple!
Live a Charmed Life in Our Luxury Apartments in Kansas City
We like to keep it sweet at 44 Washington, too! That's why our team provides complimentary resident services, monthly resident events, dry cleaning pickup and drop off services, 24-hour mini market, and many other remarkable amenities.
When you live in our apartment homes, your life instantly becomes much more convenient. That's because we don't just have apartments, we have luxury smart apartments. Control your locks, thermostat, and light switches with a mobile app! So, if you're searching for incredible loft apartments near you, then contact 44 Washington and schedule a tour of our luxury apartments.
A Stress-Free Valentine's Day Is Easy – When You Live at 44 Washington
Spending the night in is even easier when you live in apartment homes at 44 Washington! Here are six easy steps for planning a Valentine's Day date in our modern luxury apartments:
Wake up and have delicious coffee before your private yoga session in our fitness studio
Relax by booking a couple's massage in our massage room
Order lunch from one of the incredible restaurants nearby
Take your four-legged family member to our dog park and paw spa for some quality time
Head back to our new apartments in Kansas City and cook a delicious meal in our spacious kitchens
Cue up your favorite movie or TV, and get ready to spend a wonderful evening with your loved one
The New Apartments at 44 Washington Offer Luxury Every Day of the Year
You can keep the romance going into summer by leasing our luxury apartment homes, because our pool is the perfect place for a date! Not only will you experience a cascading waterfall, but you can lounge the day away in our private cabanas. When it's time to cool off, just take a dip in the pool and visit our swim-up bar.
If you don't feel like heading inside, just grab a quick game of outdoor ping-pong, and start grilling in our summer kitchen. We have outdoor TVs, so you'll never have to worry about missing a game when you're gathering for summer fun with your friends.
Love Where You Live When You Lease Our New Apartments in Kansas City
Don't just live the life you love, live the life you deserve in the apartment homes at 44 Washington. Not only will you find luxury amenities to suit your every want, you'll find a team that's dedicated to making each one of our tenants feel at home.
We have flawless pet-friendly apartments near you that are leasing quickly! If you're ready to come home to luxury, call our leasing office at (816) 759-2999 or contact us online. Don't forget to ask us about our villas, where you can live in townhome style apartments right next to the Country Club Plaza!