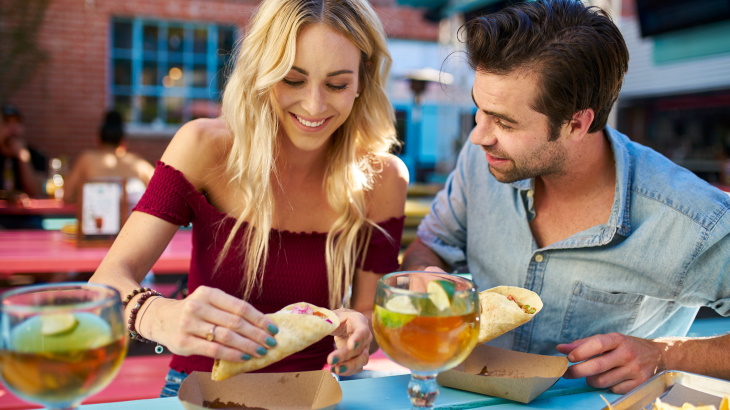 How to Indulge in Kansas City's Incredible Dining Scene
Did you know when you live at 44 Washington you're getting much more than gorgeous apartments in Kansas City? You also live within walking distance to some of our city's best restaurants, too! Look at how you can live in luxury from the inside out by combining phenomenal food from these KC restaurants and our apartment homes.
A Modern Food Hall for a Unique Experience
Don't just settle for basic cocktails at a boring bar, get the craft drinks you've been craving at Atomic Cowboy. In just a ten-minute walk from our apartments in Kansas City, Atomic cowboy serves up unique and delicious drinks you won't find anywhere else.
Even more, this trendy cocktail bar is coupled up with two incredible restaurants – Denver Biscuit Co and Fat Sully's. Check out some ways you can quench your thirst and cure your hunger at this modern food hall:
Bring Back Brunch
If you're ready to get your brunch on, then try the DBC Supermosa. This twist on the classic mimosa boasts traditional ingredients, but kicks it up a notch with mandarin vodka. Follow it up with The Dahlia from Denver Biscuit, which is a biscuit sandwich made with sausage, apple butter, a fried egg, and covered in maple syrup.
Keep It Simple for Dinner
If craft cocktails aren't for you, don't worry, because Atomic Cowboy serves your favorite brews and seasonal taps. Pair your beer with incredible New York pizza from Fat Sully's. These pizzas are big enough for you and all of your friends, and there are toppings to suit anyone's taste. Don't forget to top it all off with dessert knots tossed in Oreos.
Choose 44 Washington and Lease Luxury
No matter what kind of drink you prefer, our new apartments in Kansas City at 44 Washington are filled with all the features you need to have a kitchen full of life's little indulgences. For instance, we have under-counter beverage coolers, full-size French door refrigerators with ice makers, pantries, and gourmet kitchen islands.
Apartments in Kansas City Near Incredible Fine Dining
When you live in our modern luxury apartments at 44 Washington, you're only an eight-minute walk from some of the freshest seafood in Kansas City at McCormick & Schmick's. With delectable menu options that reflect the food from America's coasts and luxurious wine poured by the glass, your dining experience will feel extravagant.
They even have fantastic holiday menus, too! Plan a romantic date with your love and let McCormick & Schmick's do the rest. Take a look at how you can celebrate Valentine's day when you dine at this fine dining restaurant:
Choose between two exquisite salads or their award-winning clam chowder for a starter
Select one of four world-class main courses, including lobster tail and filet mignon
Pick from three delicious desserts, like an upside down candied walnut apple pie
The best part about McCormick & Schmick's is their sustainable seafood program. Their menu uses sustainably raised Open Blue Cobia and incorporates locally sourced ingredients.
Modern Luxury 365 Days a Year at 44 Washington
We aren't near the ocean, but you'll feel like it when you relax by the poolside at 44 Washington. Our modern luxury apartments have an elegant pool complete with a waterfall and swim-up pool bar. Order your favorite meal from McCormick & Schmick's, and lounge the day away in one of our private cabanas. So, if you're looking for luxury loft apartments near you, search no further than 44 Washington!
Keep It Low-Key In Our Luxury Apartment Homes
If you're looking for a short walk with your dog from our pet-friendly apartments in Kansas City, then head over to PotPie. Described as comfort food dressed up, PotPies dishes out dinner made with fresh ingredients. Even better, you can walk to this KC restaurant in just eight minutes.
In fact, the menu at PotPie is so fresh, they change it daily. However, they keep some menu items around, because they are just that good. Here's how you can enjoy one of KC's freshest restaurants:
Butcher's Board
Taking a cue from the latest trends in charcuterie, PotPie created a sensational board full of delightful bites to share.
Pan-Roasted Chicken
Served hot, fresh and ready to eat, this entrée is a fan favorite. Just remember to pick up a PotPie sweatshirt, so you can feel extra cozy on your way back to our apartment homes.
Pot Pies
Choose from at least three signature pot pies – chicken, vegetable or beef. Whichever you choose, it will warm you up on a cold winter day.
New Apartments in Kansas City With Thoughtful Floor Plans
44 Washington has luxury pet-friendly apartments near you that feature style and comfort. From plush carpeting in the bedrooms to full-size washers and dryers, we designed everything in our floor plans with you in mind. We even have a bark park and paw spa for your furry family members.
Healthy Eating Is Just a Short Walk Away
Health and Wellness enthusiasts will delight in True Food Kitchen, where you can dine on food that has major health benefits and even bigger flavor. This restaurant is perfect for people who love protein, vegans, or those who just want to reset after indulging after a holiday season full of heavy foods. Plus, they have a delectable menu for kids, comforting teas, and elegant craft cocktails.
True Food Kitchen cultivates their menu based on science, which means their dishes improve your well-being. These are just some items you can order from this craveable restaurant:
Flourless Chocolate Cake
Passion Fruit Margarita
Spicy Panang Curry
Truffle Honey and Pear Flatbread
Winter Immunity Soup
Apartments in Kansas City That Value Your Health
At 44 Washington, we believe you don't have to sacrifice luxury to focus on a healthy lifestyle. That's why you can access a state-of-the-art fitness center 24 hours a day, schedule private training sessions or attend group classes in our studio rooms, or even rent a bicycle! When you schedule your tour of our modern luxury apartments, make sure you ask our team how you can use our tanning room to be bronzed and beautiful before summer!
44 Washington Has the Best Luxury Apartments in Kansas City- But They Won't Last Long!
When you rent apartments at 44 Washington, not only will you be right next to the most exciting and popular areas in Kansas City, you'll get stress-free luxury living. We have spacious, pet-friendly 1 and 2 bedroom apartments that feature incredible amenities you won't find anywhere else!
Our luxury apartments have limited availability, so schedule a tour of our property as soon as possible! Call our leasing office at (816) 759-2999 or send us a message online. Live a life unlike any other at 44 Washington! We have incredible villas, too! Ask our leasing team how you can rent one of our town-home style apartments.