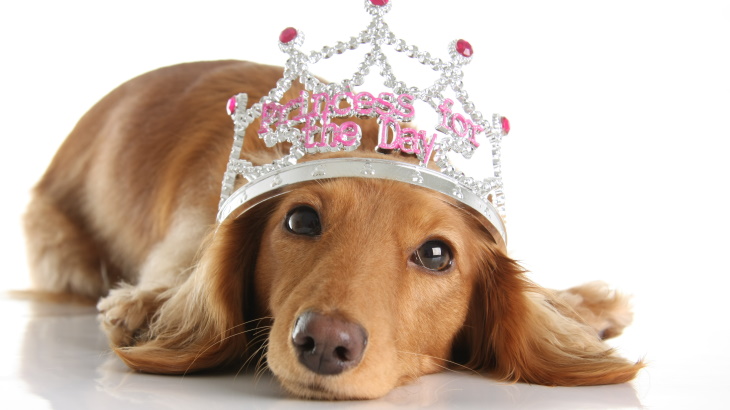 6 Ways to Show Your Furry Friend How Much You Care
We know how important your dog is at 44 Washington. Not only do they provide a lasting friendship, they lower stress, and motivate you to be more active. So, how do you repay your pup for all they do for you? By spoiling them, of course!
If you've been searching for special ways to show your furry friend some extra love, then check out these 6 ways to spoil your dog at our pet-friendly apartments in Kansas City!

1. Get to the Park and Hit the Trail
One of the best parts about living in our luxury apartments is that you are within walking distance of several incredible parks. They aren't just your basic parks, either. Many Kansas City parks feature tennis courts, nature trails, and exercise areas. Here are two parks that are only minutes away from our pet-friendly apartments:
Mill Creek Park
In just a 10-minute walk, you and your furry friend can hit the fitness trail of Mill Creek Park. After you're done working up a sweat, relax with your dog in one of the many open grassy areas. You can even set up a small table and chairs for an extra-long day at the park.
Southmoreland Park
This park is about an 18-minute walk, or a 4-minute drive, from our new apartments in Kansas City, but half the fun is getting there. Experience some of Kansas City's most fascinating architecture as you pass the Kemper Museum of Contemporary Art, Vietnam Veterans Memorial Fountain, and The Nelson-Atkins Museum of Art.

2. However, There's No Place Like Our Luxury Apartments
Sometimes, it just feels good to have a relaxing day at home – but that doesn't mean you can't treat your pup to some off-leash fun. Our apartments for rent at 44 Washington have a private Bark Park, where you can let your pet stretch their legs and burn some energy.
It's the perfect place to tucker out your dog, hangout with your neighbors, and never leave the comfort of our luxury apartments. Plus, your dog will think they're getting spoiled by endless trips to the park.

3. Book a Grooming Appointment
It doesn't matter if you're a pup or a person, a trip to the salon will make anyone feel like new. Treat your dog to a fresh cut, trimmed nails, and a relaxing shampoo at these two exquisite dog groomers near our new apartments in Kansas City:
Simply Wonderful
In only 5 minutes, you can drop your dog off at Simply Wonderful Grooming and Pet Sitting. You can book your furry-family member a full-service groom that includes non-toxic temporary color, non-toxic semi-permanent color, mohawks, nail trims, breed-specific cuts, and a lot more. This groomer is booked at least two weeks out, so schedule your pup's appointment soon.
Doggie Style Bowtique
Just 4 minutes away from our luxury apartment homes, Doggie Style Bowtique has been serving fresh styles to both dogs and cats since 2007. They even offer doggie daycare for the long days you're away at work. Just make sure your dog is spayed or neutered and is at least one-year-old, or they won't be able to take part in doggie daycare.

4. Our Pet-Friendly Apartments Have You Covered In Between Appointments
When Simply Wonderful is overbooked and you can't make an appointment at Doggie Style Bowtique, visit the Paw Spa in our luxury apartments. Our residents have full access to an ultra-convenient dog bath that allows you to comfortably stand and clean up your pup in between appointments.
Another benefit of our Paw Spa at 44 Washington is that it allows you to keep your bathroom pristine. Never worry about wiping off paw prints or cleaning dog hair from the drain. Our Paw Spa is easy to use and easy to clean, too!

5. Get Something Extra-Special For Your Dog
Here's one of our biggest kept secrets at our pet-friendly apartments near you – 44 Washington is only an 11-minute walk from Three Dog Bakery. This Kansas City sweetheart is known for being the original bakery for dogs and has the treats to prove it!
Let your doggie delight on treats like frosting-covered pupcakes, pet-approved sandwich cookies, and mini muddy paws. They look so delicious, it'll be hard not to try one yourself.
6. Keep Your Treats Simple, Too
Are you looking for a unique treat that will satisfy both you and your dog? Why not try this dog-friendly version of ice cream? Take frozen bananas and blend them into an ice cream consistency. That's it! Bananas are a wonderful snack for your dog and are filled with many essential vitamins and nutrients your dog needs to stay healthy. Plus, they're good for you, too!
Of course, you could just grab your dog's favorite snacks from Westlake Pet Supply up the street from our pet-friendly apartments, and stop by our 24-hour mini market on the way back to your luxury apartment home. Your furry friend will love you, either way.

Come See Our Pet-Friendly Apartments in the Heart Of Kansas City
When you live at 44 Washington, you'll find everything for you and your pet to live in the lap of luxury. From our sparkling kitchens with full-size French door refrigerators to our exclusive dog park, you'll find something opulent in every corner.
Ready to take the lead on life in our luxury apartments? Then send us a message online. Keep in mind that 44 Washington has limited availability. So, make sure you contact our leasing team as soon as possible.
Questions about our pet policy? Ask a member of our team for details when you schedule a tour of our new apartments in Kansas City.