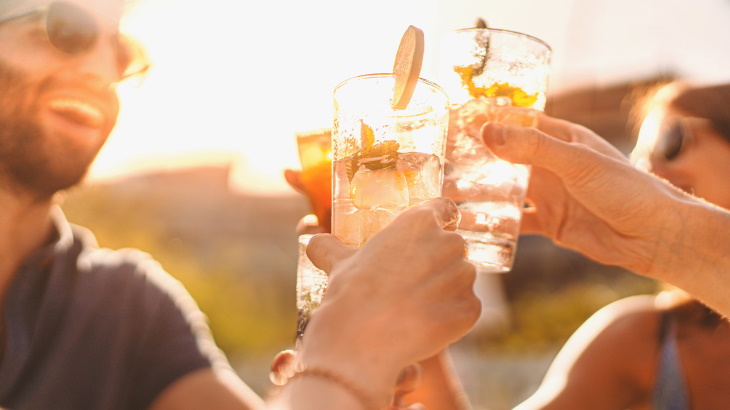 Top 5 Restaurants to Celebrate Spring Weather
Spring has sprung! That means it's time to step outside and enjoy KC at its finest, and there's no better way than by trying out some of the best restaurants near our apartments in Kansas City at 44 Washington.
With so many options, it's difficult to choose which restaurant to try first. Let our modern luxury apartments take the guesswork out of your next happy hour. Take a look at 44 Washington's top 5 restaurants for springtime entertainment.

1. Happy Hour and Steak Night at Rye on the Plaza
Rye has been a Kansas City fine-dining darling for quite some time, and with its James Beard awarded chef, you can't help but make your way to this luxe restaurant to experience outstanding food and drink. Fortunately, for the residents in our apartments in Kansas City, Rye is only a few minutes away.
Enjoy a dazzling happy hour every Monday through Friday, from 3pm to 6pm. Choose from featured cocktails, wine, beer, slices of their famous pie, and salty snacks. If you can't make happy hour, reserve a table at Rye on Sunday for Steak Night, where there's even something on the menu for kids.
No one knows luxury like 44 Washington. Keep the luxe life going by booking a massage in our massage room. All you need to do is let a member of our staff know when you're interested in a little extra relaxation, and we'll take care of the rest!

2. Join the Wine Club at Cooper's Hawk
here is nothing quite like the perfect glass of vino on a crisp spring night. Fill your glass and your belly at Cooper's Hawk. When you reserve a table at this award-winning restaurant, you'll get the chance to try food inspired and created by celebrity chefs and wine that holds top placements in international wine competitions.
In fact, their signature Artist's Red or White blends are the official wine of the screen actor's guild awards and their Cooper's Hawk Lux Cabernet Sauvignon has won nine individual awards nationally and internationally.
Cooper's Hawk is just a moment's drive from our new apartments in Kansas City – but if you don't feel like leaving, we don't blame you! Just join the Wine Club from Cooper's Hawk, and spend time in our media lounge, where you can cozy up to our fireplace and binge watch your favorite shows on the big screen TV.

3. Atomic Cowboy for a Unique KC Experience
When you are ready to leave the apartment homes, head down to Atomic Cowboy for one of the most unique dining experiences in Kansas City. Wet your whistle with sensational craft cocktails, your favorite taps, and seasonal rotating taps.
The best part about Atomic Cowboy is that it's also two restaurants! Order comfort food from Denver Biscuit Co for brunch, or pizza and pub food from Fat Sully's NY Pizza when you're ready for dinner. Just remember pizza from Fat Sully's is gigantic, so make sure you leave room for happy hour at Atomic Cowboy from 4pm to 6pm, Monday through Friday.
If you can't muster one more bite of delicious food or have one more sip from a delicious cocktail, bring your leftovers back to our modern luxury apartments, where you'll have a gourmet kitchen to match! Our loft apartments near you have full-size French door refrigerators and undercounter beverage coolers, so you never have to worry about having too much food.

4. Try Char Bar for Fun and Games
This Kansas City favorite is just minutes away from our luxury apartments in Kansas City, and it's filled with food and entertainment for everyone! This urban playground has a beer garden, patio bar, picnic tables, bocce ball, corn hole, and more for a fun afternoon with your friends and family.
Stay and play for brunch, lunch and dinner. Char Bar even has a large happy hour menu filled with craft cocktails, wine, beer, and food. Happy hour is from 4pm to 6pm, Monday through Friday, and dine-in only.
You can have a happy hour just like Char Bar at our apartments in Kansas City. Just call your friends over, mix your favorite adult beverage, and hangout by our outdoor TVs, play outdoor ping-pong, or relax next to our outdoor firepits.
5. Walk to Mill Creek Park With Your Dog
There isn't a bar or restaurant at Mill Creek Park, but this gorgeous outdoor space is ideal for a quick spring picnic. All you need to do is pack a basket with a bottle of your favorite wine and fill it with your favorite snacks, and prepare your dog for an epic afternoon outside.
We recommend visiting Cupcake A La Mode. This whimsical bakery in Kansas City is just a three-minute drive from our apartments in Kansas City and has the baked goods you need to make your picnic extra special.
Are you looking for pet-friendly apartments near you? Then come see our modern luxury apartments, where we have thoughtful amenities for you and your furry-family member. Ask a member of our team to show you our paw spa and private dog park when you schedule a tour.

The Best Happy Hour Is in Our Luxury Apartments in Kansas City!
When you live at 44 Washington, each day feels like something special. Not only does our staff strive to give each of our residents incredible customer service, our amenities can't be beat. Spend your spring getting in shape at our 24-hour fitness center, get your bronze on in our tanning bed, or cook up something spectacular in our community kitchen.
However you choose to live in our modern luxury apartments, you'll enjoy every minute. To schedule a tour of 44 Washington, send us a message online. Hurry! Our apartment homes have limited availability and are leasing fast, so lease your new apartment in Kansas City before they're all gone.