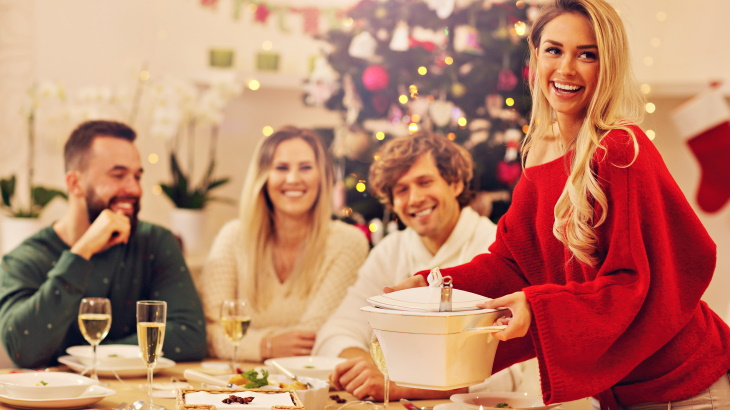 6 Ways to Add Sleek and Modern Winter Wonder to Apartments in Kansas City
The holidays have arrived, and it's time to trim your home with the latest in seasonal decor. However, you want to add cheer to modern luxury apartments without the cute. If you're ready to get started on decorating in style, then look at these ideas on how to make your home sleek for the holidays!
1. Go for Gold by Giving Up Green and Red This Holiday Season
Green and red are traditional holiday colors, but they're boring. Take a sophisticated twist to the classic Christmas color palette by choosing rose-gold and eucalyptus, instead of green and red. Add dusty green accents to your tree, make beautiful wreaths out of eucalyptus leaves and rosemary, and choose wrapping papers in natural shades of green.
Pick out stockings, tree blankets, ornaments, and other details in warm pinks to add dimension to your holiday decor, and add splashes of winter white and orange to pull everything together. Try experimenting with different textures, too. Be on the lookout for faux fur and knitted decor to add dimension to your holiday decorations.
2. Don't Forget About the Laundry Room and Bathrooms in Apartment Homes
Holiday decor shouldn't stop at the living room. You can make places like your bathrooms and laundry luxe for the holidays by keeping your decor fresh and your color palette simple. These are not areas for sparkling lights and bright colors.
Consider adding a lush green wreath and matching topiaries to countertops and shelves. It's best to go with living plants over artificial ones. However, some holiday flowers and plants are extremely toxic to pets, so make sure you choose non-toxic decor to keep your pets safe.
At 44 Washington, we think spending time with your pet is the best gift! That's why we have a dog park and pet spa to pamper your favorite furry friend for the holidays. When you want a new luxury home, you don't need to search for any other "pet friendly apartments near me," because we don't have breed or weight restrictions.
3. Fresh Flowers and Herbs Are Always on Trend for Apartments in Kansas City
If you don't have to worry about a pet getting into your holiday decor, visit your local florist and find out what flowers are in season for the holidays. Pair roses with evergreen branches or find something more exotic to make a statement. Make sure you stick to the same few flowers, or you might lose the holiday theme.
Holiday herbs and spices entice your senses and bring warmth to your home. Plus, they look effortlessly cool for decor. Make wreaths and garlands with rosemary sprigs, cinnamon sticks, and dried peppermint leaves.
4. You Can't Go Wrong Layering Winter Whites
Bring the snow inside apartment homes with a modern medley of winter whites. Decorate your dining room table with tablecloths and napkins that have beiges, creams, whites, and ivories. Carry this color palette into your kitchen, where you can decorate with gorgeous kitchen towels and modern accent pieces.
Get a bit of modern whimsy by finding refined statues and figurines of polar bears, owls, and reindeer. Add in accents of sage green and dark red for a more sultry look. Don't forget to add a little light with an elegant candle.
5. Turn Back the Clock by With Retro Holiday Decor
How can modern and retro fit together for the holidays? By combining clean lines, jewel tones, minimalist design. Entertain guests at your next holiday party with inspiration from the mid-century, where they used small serving bowls, patterned plates, and mercury glass decorations.
Make it modern by using matching retro glassware, minimal wreaths with brass accents, and playing your favorite classic holiday hits on a high-quality sound system. Take your holiday party to the next level by learning how to make retro cocktails to impress your guests.
Your guests will be even more impressed when they check out the new apartments in Kansas City at 44 Washington. Where we have incredible amenities like complimentary resident events, 24-hour mini market, and outdoor fire pits to stay warm all winter long. Want to know more? Just ask your favorite smart device, "where can I find luxury loft apartments near me?"
6. Find Winter Wonder by Decorating Simply
Choosing a color scheme or theme for the holidays can be a real chore, especially if you have a busy work schedule. That doesn't mean modern luxury apartments can't have a splash of holiday style. All it takes is a few small but mighty decorations to add a little magic.
Save yourself time and effort by purchasing a few basic holiday decorating necessities. Buy red and white throw pillows that will work for Christmas, Valentine's Day, and the Fourth of July. Choose neutral greens for spring and winter, and find garlands and wreaths that you can hang from Thanksgiving through the New Year.
Unwrap Luxury When You Lease New Apartments in Kansas City at 44 Washington
Nothing sparkles like modern style, and that's exactly what you'll find at 44 Washington. Every apartment offers gorgeous kitchen appliances, spacious pantries, dazzling views, and unbeatable amenities. Our modern luxury apartments are so stunning, you can skip the holiday decor.
Ready to see what luxury apartment homes really look like? Contact our leasing office online or schedule a tour by calling (816) 759-2999 today. Live life the way you want at 44 Washington!