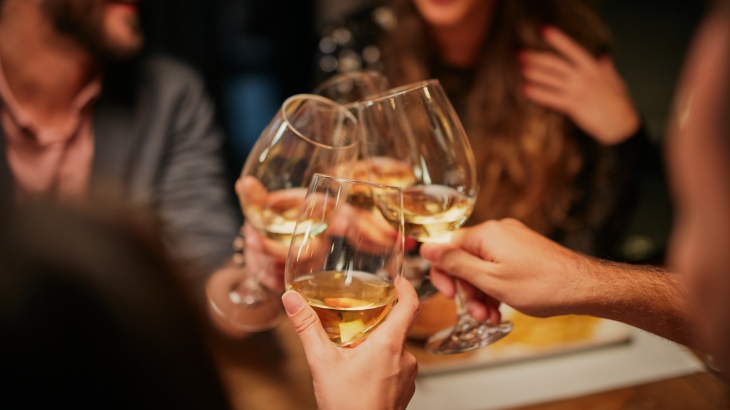 See How You Can Drench Your Summer In Luxury at 44 Washington
The best part about living in our new apartments in Kansas City at 44 Washington is the location! Not only are we the perfect community for an incredible bike ride, our neighborhood also has sensational social spots within minutes of your front door.
So if you're looking for unique and original venues for sipping, socializing, and relaxing, check out these top spots within walking distance of our modern luxury apartments!
Prime Social is Just Minutes Away From Our Kansas City Apartments
There's nothing like sipping on craft cocktails underneath the stars, and taking full advantage of Kansas City nights. Our modern luxury apartments are an effortless 7-minute walk from Prime Social, KC's premier rooftop lounge.
There, you can order seasonal craft beverages, like The Gatsby, which feature bourbon, peppercorn, hibiscus, lavender, and oak bitters. If cocktails aren't your style, order from their extensive selection of spirits, wine, and beer.
You can even order from a variety of mocktails that are made fresh and taste incredible. Take your chances with the Bartender Roulette for an ultra- fresh concoction of their own invention.
Don't forget to order decadent appetizers, entrees, and desserts while you're chatting the night away with your friends. Order an elevated pizza for a quick bite between drinks or try something a little more luxurious, like the lobster roll.
As one of the hottest social spots in Kansas City, it's best to make reservations before you walk from your apartment home to Prime Social, or you might have to wait for your table.
Spend Nights at Prime Social and Days at Our New Apartments in Kansas City
Sometimes, summer sips are best served from the comfort of your own home. When you lease a new apartment home at 44 Washington, you have elite access to some of Kansas City's best luxury apartment amenities.
Enjoy a fruity cocktail poolside at our resort-style pool, complete with a waterfall, hot tub, and swim-up bar. When you don't feel like cooling off in the pool, catch some shade in our private cabanas, or soak up summer sun on our expansive pool deck.
On days when it's just too hot outside to hang by the pool, keep your cool in our media lounge or resident lounge. From our pool table to our community kitchen, you'll find everything you need to stay entertained indoors.
Find Fun and Games at Char Bar in Westport
Known as an "urban playground," Char Bar is only a 10-minute walk from our luxury apartments near Westport. This unique venue features the largest beer garden in town and a huge patio bar to match.
Test your skills with games like bocce ball, corn hole, and ping-pong, while you indulge on rich and hearty barbecue. You can even take your favorite sips on swings made just for adults.
After a long day at work, head to Char Bar for an incredible happy hour, where you'll find beverage and food specials from 3 to 6 pm every weekday. Stop in for brunch on the weekends from 10 am to 2 pm, too!
Char Bar takes reservations for parties of 8 or less, but prefers walk-ins, which means you don't have to stick to a rigid schedule to have a good time at this fun and original restaurant. However, if you have a party of 9 or more, call Char Bar to explore your seating options.
Make Something More Out of Your Summer When You Lease Our Apartment Homes
You know who also loves fun, games, and delicious food? Your dog! We are pet-friendly apartments at 44 Washington, and we have the amenities to match.
Spend time with your furry family member at our private Bark Park, where your pal can stretch their legs off-leash, and get in some socializing of their own with your neighbors and their dogs. You can also leash-up your pup and head over to Mill Creek Park, which is only a 10-minute walk from our pet-friendly apartments near you.
When your dog is done getting their paws muddy, bring them back home for a relaxing bath in our exclusive Paw Spa. We have everything you need to clean up your canine so you can stay dry and keep your modern luxury apartment clean.
Say "Goodbye to Stress" at Spa on Penn
Laser hair removal, body contouring, and more await you at Spa on Penn. This high-end medical and wellness spa is a mere 8-minute walk from the apartment homes at 44 Washington, and is one of the best-reviewed spas in Kansas City.
Not only can you find medical-grade cosmetic treatments at Spa on Penn, you can reserve their Steam & Meditation Therapy Room, Dry Sauna, or schedule a Pure Fiji Coconut Milk Bath Soak.
Finish your spa day and get ready for a night on the town by scheduling services for your nails, brow, makeup, and more! Just make sure you book your services in advance, so the professionals at Spa on Penn can prepare for your appointment.
You Can Still Live in Luxury When You're Short On Time
There are days when you won't be able to book a spa service at Spa on Penn on the fly. That's okay, because our new apartments in Kansas City have all the opulent amenities you need to be refreshed and rejuvenated.
Ask our staff how you can book a massage in our private massage room, get a beautiful bronze with our stand-up tanning bed or private spray tan, and sign up for group fitness classes like yoga.
After you're done relaxing, just head up to your luxury apartment, where you can gather a moment of peace before an exciting night out.
Are You Looking for the Best Luxury Lofts Near You?
Then search no further than the modern luxury apartments at 44 Washington, where an urban lifestyle and luxury oasis collide to create the apartment home you've always wanted.
From under-counter beverage coolers to local artwork throughout our community, we've included thoughtful details in every corner of our luxury apartment building.
To find out more about our floor plans or schedule a tour of your new apartment in Kansas City, call our leasing team at (816) 412-8490 or send us a message online.
44 Washington has one-, two-, and three-bedroom apartments available – but they are leasing fast! So make sure you request a tour of your next home before it's gone.