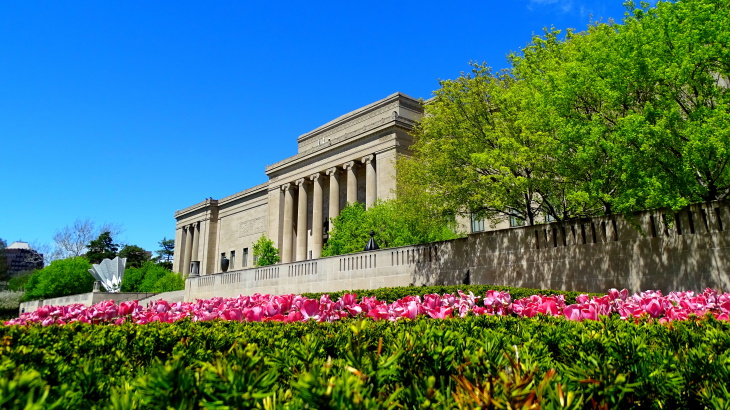 There's Always Something to Do Close to Home When You Live at 44 Washington
Location is one of the biggest perks of living at 44 Washington. Our downtown Kansas City apartments are right in the heart of the city, so living in our community places you in a hotspot for entertainment, fun activities, and new adventures.
With so many options of things to see, we wanted to highlight some of our favorite ones that we think all our residents should see.
1. The Arts and History
44 Washington is in the same neighborhood as some of the best museums and art exhibits in the area. There's no shortage of history and culture to take in without going far from our luxury Kansas City apartments. Your list of must-see places should include the following:
National World War I Museum & Liberty Memorial
American Jazz Museum
Negro Leagues Baseball Museum
Arabia Steamboat Museum
Money Museum
Nelson-Atkins Museum of Art
Kemper Museum of Contemporary Art
National Museum of Toys & Miniatures
Kansas City as a whole is a hotbed for areas and venues that showcase the arts across different cultures and periods in history. Some neighborhoods and places to check out include the Crossroads Art District on First Fridays, the Kauffman Center for Performing Arts, and The Starlight Theatre.
2. Country Club Plaza
The Plaza is the best and most historic shopping district in Kansas City. What makes the Country Club Plaza so special is that it isn't only a mall, or only a place to grab a bite, or just a place to see cool architecture. It's a fusion of all of these things and creates a great outdoor atmosphere.
Seemingly endless shops, dining options, and unique architectural landmarks combine to create a 15-block stretch that defines what Kansas City is all about. Walk the Plaza, and take in the early 1900s Spanish architecture, or visit the beautifully sculpted fountains of all sizes.
Not too many Kansas City apartments can brag about being so close to an area that offers as much to do and see as the Plaza. You will undoubtedly find yourself becoming a frequent visitor for shopping, dining, events, concerts, and more. Why wouldn't you when your one-bedroom apartment at 44 Washington puts you close enough to walk?
3. Union Station
This is one we hold near and dear because of its status as a true Kansas City historic treasure, and its location being only a little over a mile away from our downtown Kansas City apartments. Union Station is a converted train station that has been maintained over the years and still stands as one of KC's best places to visit.
Still a functioning train station, Union Station is free to enter and explore. However, many activities require an admission fee, like the IMAX theater, Planetarium, and Science City Museum.
4. Crown Center
Most downtown Kansas City apartment residents have spent a day hanging with family or friends at Crown Center, another downtown attraction that houses some pretty cool things inside. Sealife, for example, is an aquarium that showcases more than 5,000 sea animals and has multiple interactive elements that keep the whole family engaged.
Sealife operates in the same building as the Legoland Discovery Center, which opens your family up to all things LEGO and has immersive elements like rides and play areas. Stretch your family's imagination with the endless possibilities at Legoland.
Crown Center also offers restaurants, stores, boutique shops, a theater, kids activity spaces, and an ice skating rink, so there's something for everyone. You're guaranteed to have a blast when you spend a day at Crown Center. Best of all, it's just a one-mile walk for residents of our Kansas City apartments. Crown Center is a favorite of our community!
As the Premier Downtown Kansas City Apartment Community, 44 Washington Places You Around All The Action
Location is one of those things that's the same for all of our residents, no matter if you're in a one-bedroom apartment, executive suite, or any other floor plan option. Living at 44 Washington gives you the full experience of downtown living as you live the Kansas City dream.
Don't feel like going out? We are happy to accommodate your wishes on cold, winter days and nights right here at 44 Washington. Relax indoors and play some billiards in the resident lounge, or enjoy any of our other luxury amenities. There's even something for your furry friends.
Don't feel left out; come join our community! Schedule a tour of the top downtown Kansas City apartments and executive suites today. Call our team at (816) 412-8490, or send us a message online.